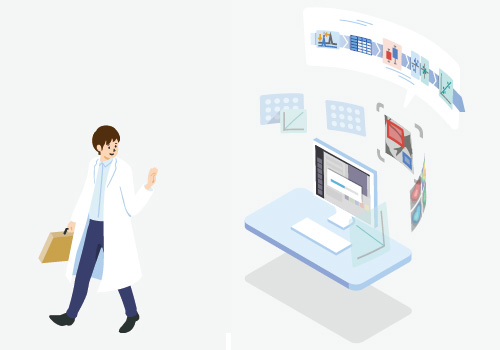 Simplifying Routine Analysis
Are you worried about wasting time or valuable data?
Automatically uncover important information from
large amounts of data with IMAGEREVEAL MS.
IMAGEREVEAL MS Workflow

Experience easy-to-use IMAGEREVEAL MS software
The demonstration version of IMAGEREVEAL MS software is free and will expire in 30 days.
This software was developed as a result of collaborative research with Kyushu University's Innovation Center for Medical Redox Navigation and Mitsubishi Tanabe Pharma Corporation.
IMAGEREVEAL, iMScope TRIO, AXIMA and MALDI Solutions are trademarks of Shimadzu Corporation.
Windows is a registered trademark or trademark of Microsoft Corporation in the United States and/or other countries.
Intel, Intel Core and Xeon are trademarks of Intel Corporation or its subsidiaries.
Caution: Certain pretreatment methods or creation of samples to obtain or process data with this software may require license permission from a third-party patent holder.
(Installation of this software does not constitute such permission.) As regards the necessity of licensing from third-party patent holders, we recommend consultation with an expert or the holder of the patent rights.