Features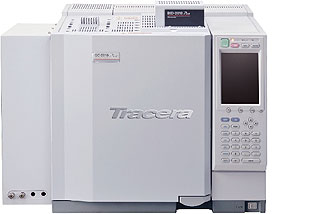 The Tracera Ultrafast RGA system utilizes the new Barrier Discharge Ionization Detector (BID) technology coupled with a GC-2010 Plus capillary gas chromatograph to create new system GC for ultrafast, high-sensitivity analysis. Since the electrode creating Helium plasma is totally isolated from the carrier gas, there is no chance to contaminate this electrode with a dirty sample. This enables long-term stability.
Ultrafast Analysis
UFRGA system completes a normal refinery gas analysis in 6 minutes.
Stable Helium plasma achieves excellent peak repeatability performance.
Third-generation advanced flow controller (AFC) and advanced pressure controller (APC) provide excellent retention time repeatability.
BID technology enables high-sensitivity analysis.
Extended hydrocarbons such as C6 – C13 can be analyzed using an additional FID detector.
Chromatogram of BID

Chromatogram of FID
Heavy hydrocarbon system
A dual-oven system can be configured for analysis of extended hydrocarbons such as C6 – C18.
Chromatogram of BID

Tracera UFRGA Series Lineup
| | | | | |
| --- | --- | --- | --- | --- |
| Model Name | Tracera-USRGA | Tracera-ERGA-S | Tracera-ERGA-D | Tracera-USNGA |
| Type of Detector | BID, FID | BID, FIDx2 | BID, FID | BID, FID |
| Target compounds | H2, O2, N2, H2S, CO, CO2, C1-C5, C6+(backflush) | H2, O2, N2, H2S, CO, CO2, C1-C5, C6-C13 | H2, O2, N2, H2S, CO, CO2, C1-C5, C6-C13 | Permanent gases, C1-C5, H2S, C6+(backflush) |
| Analysis Time | 16 minutes | 10 minutes | 10 minutes | 5 minutes |
| Others | Simultaneously installed FID and BID realize trace amount analysis for both of permanent gases and hydrocarbons. | Single oven RGA system. Although this system is compact, the BID makes it possible to analyze permanent gases to C13 including H2S. | This model employs dual oven system for more expansion. Higher and more trace analysis can be achieved. This model also can be configured for complex samples depending on requests. | This system is configured for high speed natural gas analysis. Including H2S, Analysis is completed within 5 minutes. |
For Research Use Only. Not for use in diagnostic procedures.

This page may contain references to products that are not available in your country.
Please contact us to check the availability of these products in your country.